King Lear on Screen
The part of King Lear is the final peak for many great actors to summit. It is a brutal, trying, exhausting role that requires an actor to marshal all of his mental, emotional and physical resources. He is one of Shakespeare's most complex creations: an aging King who demands fawning tribute from his three daughters before he divides his land, wealth and power among them. Over the course of the play he is reduced from commanding King to half-madman impotent with rage as he rails and rants in the middle of a howling storm.
Directed by Andrew McCullough and staged by a young Peter Brook for the CBS Omnibus series in 1953, this version starring Orson Welles as King Lear is more a curiosity than a faithful adaptation. But who wouldn't be curious about Welles as Lear? At 75 minutes (due to broadcasting constraints), the adaptation is basically the Cliff's Notes version of the play and the production values are threadbare. But Welles is something to behold: not yet 40 years old, he sports a false beard and a fake nose, yet there is no disguising that deep sonorous voice and barrel-chested build (not quite the Falstaffian girth of later years). Welles exhibits the crumbling strength and pathos of an Old Testament prophet.
King Lear (1971)
Acclaimed experimental director Peter Brook offered King Lear by way of Beckett and Ingmar Bergman with this bleak, existential adaptation. Shot in black-and-white on location in Denmark, the landscape is a lunar-like tundra. In a bracingly original interpretation (based on the 1962 stage incarnation), Paul Scofield played the King as a cold, cruel brute, lording it over his traumatized daughters and cowed subjects. When Cordelia says she loves him only in accordance with her bond as a daughter, no more and no less, we believe her. Scofield dominates the film with his weathered face and sandpaper growl. His curse on Goneril is deeply unsettling, the epitome of patriarchal abuse. His redemption, such as it is, is a trial-by-fire, and it takes a powerhouse actor to pull off such a profound character arc. Scofield manages it; his gentle, consoling delivery to Cordelia, "Come, let's away to prison…" is quietly heartrending.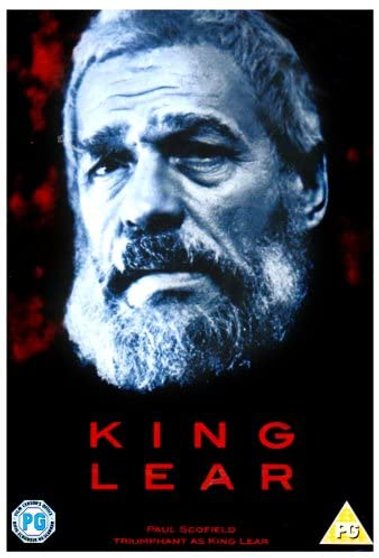 It would be anachronistic, not to say culturally insensitive, to suggest that King Lear is the most Russian of the Bard's tragedies: as heavy, ponderous and bleak as any Dostoevsky novel. But Grigor Kozintsev (director of the excellent 1964 Hamlet) gives the play the authentic Russian treatment in this version from 1971. Reuniting with his Hamlet collaborators – a script by novelist Boris Pasternakand a score by Dmitri Shostakovich – Kozintsev puts a Marxist spin by emphasizing the play's disdain for royalty(this is no noble Lear) and concern for the common people. The Fool is arguably Kozintsev's spiritual double, speaking truth to power in the language of riddles and caustic humor.
Filmed in front of a live audience in New York's Central Park, this version recorded for posterity the celebrated Joseph Papp production starring James Earl Jones and Raul Julia. What it lacks in visual variety it makes up for with powerhouse performances, beginning with a towering James Earl Jones, only a few years away from voicing Darth Vader in the Star Wars series. With his broad shoulders and booming bass, Jones commands the stage as a vain, boastful Lear – a lion-in-winter whose pride makes him all too sensitive to perceived slights. Raul Julia nearly walks away with the production as Edmund, one of Shakespeare's most irrepressibly irresistible villains.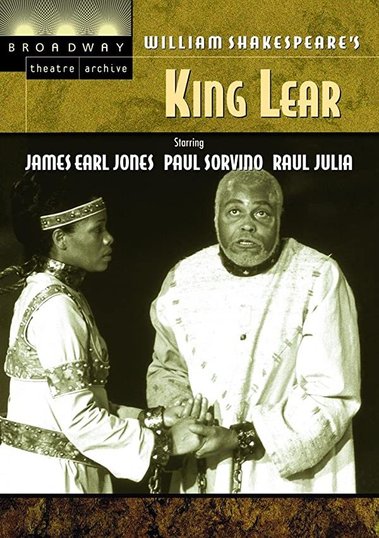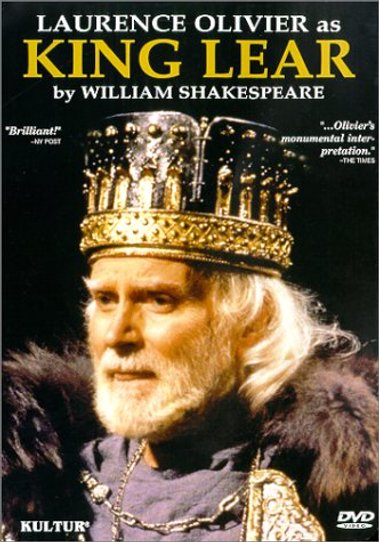 Up until Anthony Hopkins's heartbreaking performance, Laurence Olivier stood as the most poignant, profoundly sad Lear. Physically frail, a 75-year old Olivier could not manage the climactic scene where he carries the corpse of Cordelia onto stage (ropes held her up). Ever the resourceful actor, Oliver turned this liability into an advantage by giving is an all-too-human Lear: a once-regal powerhouse bowed and broken by circumstance. When he threatens his daughter Goneril with a stuttering "I will do such things—What they are yet I know not, but they shall be the terrors of the earth" -- the effect is far more sad than menacing.
This King Lear is a television adaptation of the acclaimed Royal National Theater production which earned Ian Holm and Richard Eyre numerous accolades and awards when it premiered on the London stage. Holm gives a vigorous, energetic performance fueled by the kind of physicality that would tax any actor half his age. He leaps on tables, bangs his head, nearly froths at the mouth, and strips himself naked in the storm sequence exposed to the elements and to the gods. Victoria Hamilton plays Cordelia as a chip off the old block: she's just as fierce and fiery and prone to fits as her father, and in one scene wears Joan-of Arc-style armor. Timothy West (as Gloucester) and Paul Rhys (Edgar) bring quiet dignity and poignancy to their roles. But the production belongs to Holm: This is Lear the Dragon: spewing fire and turning to ash and cinder all those who get in his way. "Come not between the dragon and his wrath," he warns well-meaning Kent, and it's not an empty threat.